×
Dec. 4, 2013: Waves and Snow in Canal Park
During the Dec. 2-4 snowstorm, more than 40 inches of snow fell on parts of Minnesota's North Shore. On Dec. 4, wind gusts topped 40 mph, whipping up large waves in Duluth's Canal Park that, together with the wet snow, thoroughly soaked our reporter.
×
Phil Bencomo / Lake Superior Magazine
Dec. 4, 2013: Cross-country Skiing During the Storm
The weather made driving treacherous, but winter sports enthusiasts, like this skier in Duluth, welcomed the opportunity to pull out their gear.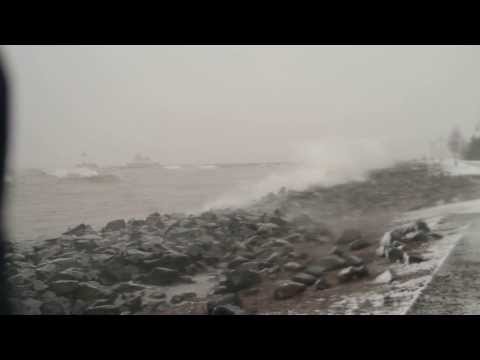 Duluth averages 17.7 inches of snow in December. After a three-day snowstorm to kick off the month, the city has already topped that total by nearly 6 inches. And the 23.3 inches measured at the airport is more than a quarter of Duluth's typical snowfall total – 83.1 inches – for the entire season.
Up the Lake Superior shore, areas up the hill from Two Harbors, Minnesota, got an even bigger wallop during the Dec. 2-4 storm – 42 inches in all.
Some parts of the Keweenaw Peninsula saw up to 9 inches from the storm, too. In Ontario, Thunder Bay received 15 cm (about 6 inches).
The storm will be followed by a week of frigid temperatures, with highs rarely surpassing single digits Fahrenheit and dropping below zero overnight. The National Weather Service says the western Lake region could experience wind chills of minus 30, and a wind chill advisory is in effect from 8 p.m. tonight through 9 a.m. Friday.
Snowfall totals from around the region, as reported by the National Weather Service on Thursday morning:
Minnesota
42 inches – 5 miles north of Two Harbors
35.3 – 7 miles northwest of Two Harbors
34.5 inches – Beaver Bay
33 inches – 6 miles west of Two Harbors & 10 miles north of the Two Harbors
29.5 inches – Silver Bay
29.2 inches – Duluth Heights
24.5 inches – Lester Park, Duluth
23.3 inches – Duluth (official NWS station observation)
23 inches – Canyon
22.5 inches – 2 miles northeast of Lutsen
21.7 inches – 4 miles south of Sawyer
20.7 inches – 3 miles north-northeast of Finland
18.5 inches – Cloquet
17.6 inches – Brimson
17 inches – 1 mile northwest of Chisholm
16.5 inches – International Falls
14.5 inches – 3 miles east of Orr
14 inches – Embarrass
13.2 inches – Grand Marais
12.8 inches – McKinley
12 inches – Hoyt Lakes
11 inches – Larsmont
10.5 inches – 8 miles northeast of Cook
Wisconsin
21.1 inches – Herbster
19.5 inches – Superior
18.5 inches – Cornucopia
18 inches – Poplar
17 inches – Hawthorne & 7 miles south-southeast of South Range
16 inches – 7 miles southeast of Superior
10.5 inches – Gile
9.8 inches – Mercer