×
Dec. 4, 2013: Canal Park
×
AccuWeather.com
Updated Weather Chart for Wednesday
Snowfall amounts of 6 to 22 inches fell in parts of northern Minnesota, including the Duluth, Minn., area on Monday into Monday night, and another 6 to 12 inches may accumulate through Wednesday from northern Minnesota to the Upper Peninsula of Michigan. By the time the storm exits on Wednesday, storm totals range from 1 to 3 feet over a large part of the Upper Midwest. The worst of the snow is likely through Wednesday from eastern North and South Dakota to northern Minnesota, northwestern Wisconsin, part of the Upper Peninsula of Michigan and neighboring Canada. The worst of the cold following the storm will also focus over this area. (Updated 12/4, 6 p.m.)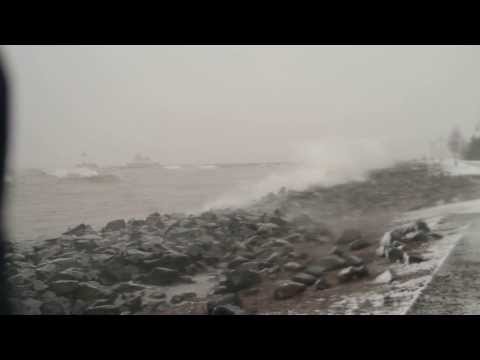 AccuWeather Global Weather Center -- A storm may evolve into an all-out blizzard, unleashing heavy snow, high winds and reducing visibility across the northern tier of the U.S. The National Weather Service has issued a winter storm warning for large swaths of the Lake region through 6 a.m. Thursday.
Treacherous travel conditions and dangerous cold are expected across the Rockies, northern Plains and Upper Midwest through midweek.
The worst of the storm is likely on Wednesday afternoon and evening across northern Minnesota, northwestern Wisconsin, part of the Upper Peninsula of Michigan and neighboring Canada. The worst of the cold following the storm will also focus over this area.
Snowfall amounts of up to 17 inches fell in northeastern Minnesota on Monday into Tuesday morning, and another 10 to 18 inches may accumulate by Thursday from Duluth to the Upper Peninsula of Michigan.
By the time the storm exits, storm totals will likely exceed two feet in many areas. Parts of the North Shore between Duluth and Lutsen could see up to 40 inches.
Wind-driven snow could shut down travel for a time along portions of I-94, I-29 and I-35. Air travel delays are likely as well throughout the Northern states.
Wind gusts of 25 to 40 mph will create blowing, drifting and poor visibility, making driving extremely difficult over part of the North Central states. White-out conditions are a possibility.
By Michael Doll, Meteorologist for AccuWeather.com, with additional reporting by Phil Bencomo